6L6 Tube Reviews are not easy to do. There are so many 6L6 types in production today, and there are several variations within the 6L6 family.
We will try to address questions that our customers asked us about often.
Quick Links to Shopping 6L6 Tubes
See our 6L6 / 5881 Tube Catalog Page for all 6L6 tube types we stock. If you are looking for tube sets for your Fender amps, please also see Fender Amp Tube Sets.
Related Links: 6L6GC, 6L6GB, 5881, KT66 Differences
---
Upgrading stock 6L6
Often, a well used amp starts to sound flat. Perhaps you played with your amp heavily for a few years, or you bought a vintage amp with well worn tubes. And you may be wondering if your amp could sound fuller and heavier.
Well, quite often they can.
Upgrading Power Tubes
Power tubes in amps work with output transformer to supply power output to speakers. While tubes are awesome, the output transformer has a lot to do with the sound of amps. (Well, and weight, too).
This tube-transformer combination circuit forms a low-cut filter between tube's internal resistance and output transformer inductance. If you ever played with low cut filter in your DAW's EQ, you know how you can cut off the low bass.
Consequently, as tubes wear out, the cut off frequency starts to move up, eliminating the precious frequency components that gives your amp that signature 6L6 dynamic pop.
All tubes wear out, this is inevitable. Power tubes wear out in proportion to heat and the amount of power it handled over time.
Replacing or upgrading the power tubes is a good, easy way to get more out of your amp.
Premium 6L6GC Upgrade
Tube manufacturers have come up with 6L6GC tubes that are step up from factory installed 6L6 tubes. These are solid, rugged tubes with sonics that go beyond factory installed tubes.
If you are looking to replace or upgrade the original 6L6 tubes, these are the go-to choices.
TUNGSOL 6L6GC-STR MATCHED PAIR
These 6L6GC tubes all pack a good punch, with signature sparkle with smooth harmonic contents. Mullard 6L6GC and Tung-Sol 6L6GC-STR in particular are the newest generation designs with smaller form factor and tight build. Vibration noises are reduced making them especially suited for combo amps.
Boutique 6L6GC
We also carry 6L6GC tubes by boutique brands such as Ruby and Tube Amp Doctor. Both Ruby and TAD use Chinese tube manufacturer to come out with tube designs that are their own. We auditioned 6L6's and decided to stock a few that we really liked.
TAD 6L6GC-STR RCA STYLE MATCHED PAIR
TAD 6L6GC-STR CLEAR TOP MATCHED PAIR
Whether you are re-tubing worn 6L6s or upgrading for better tone, any of the above will sound great and do well in any amps calling for 6L6.
Remember, all our power tube sets include free burn-in for maximum stability.

---
Replacing 6L6WGB/5881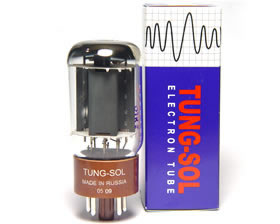 6L6GB/5881 is smaller sized than 6L6GC, and rated only up to 23W.
Why use smaller powered 6L6GB/5881 when 6L6GC can do the job just fine? It's because the original TungSol 5881 from 1950's was legendary in its tone, and tube manufacturers deemed necessary to re-issue tubes that replicates the original very closely.
JJ 5881 (coming soon)
Comparing New and NOS TungSol 5881
Comparing current production TungSol 5881 to NOS TungSol in a SF Bassman, we felt current production TungSol 5881 had a little more modern taste to it, with a bit more bottom end as well as highs with harmonic content. NOS TungSol 5881 sounded a little smoother perhaps.
Use Tung-Sol 5881 if you are looking for that great 5881 tone, but make sure your amp calls for 5881/6L6GB and not 6L6GC.
If you are after that Tung-Sol 5881 tone in higher powered amp, try TungSol 6L6GC-STR tubes.
---
Related Links