Tubes are now back in stock!
EL34 Tube
If you own an EL34 amp, you know the magic it produces. EL34 tube produces smooth highs with pleasant mids in guitar amps. When pushed, EL34 tube will produce wonderful quintessential classic Marshall tone that's instantly recognizable. In audio amps,EL34 tube produces that signature velvet-smooth mids. EL34 excels at reproducing horns and female vocals, with silky smooth texture. A great sounding EL34 amp is a joy to listen to all day.
Replacing EL34 Tube

Vacuum tubes wear out due to heat and high temperature. Due to its narrower profile,EL34 tubes can run quite hot and tend to wear faster than other tubes in your amp. If you regularly use your amp, it's not uncommon for EL34 to lose its full potential after a year or two. Replacing with new EL34 tubes will bring back the luster and depth that your amp is fully capable of.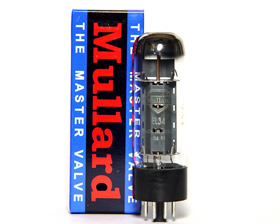 Go-to EL34 Tubes
Our go-to tubes for audio amp upgrade is Mullard EL34. It has good tight bass to balance out the beautiful mids.
For guitar amps, one of the top choice is Tung-Sol EL34B. It provides good body and nice high end definition. Mullard EL34 does very well in our vintage Marshalls also.
Other popular choices are Svetlana EL34-SV and JJ E34L. These tubes do signature EL34 sound very well. And they work well in audiophile as well as guitar applications.
See EL34, 6CA7 KT77 catalog page for listings.

---
KT77
KT77 was all but lost in vacuum tube history as an esoteric but supreme audio tube. Tube manufacturers revived KT77 along with design and sonics of the classic KT77.
KT77 in Audio Amp
Gold Lion KT77 is the hands down top choice for those who wants to get that something extra out of their EL34 amps.
Gold Lion KT77 maintains the mids of EL34 while filling out the lows and highs nicely. Gold Lion KT77 also adds the dynamics reminiscent of more powerful tubes like 6550. These are the characters that make Gold Lion KT77 unique and special.

Gold Lion KT77 manages both classic and contemporary materials very well. Gold Lion KT77 effortlessly handles modern dense recordings.
As with all Genalex Gold Lion tubes, Gold Lion KT77 is built to the highest standards. The meticulous build quality of Gold Lion KT77 stands above all other tubes covered here.
If you are using EL34 amps with OEM EL34 tubes, Gold Lion KT77 is a big step up that can transform your amp.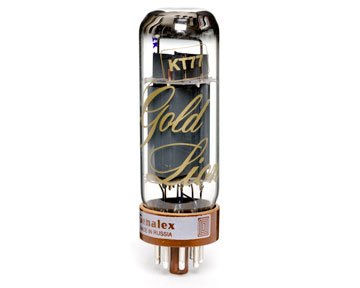 KT77 in Guitar Amp
In a guitar amp, JJ KT77 is a good choice for those wanting to venture away from regular EL34 tubes. In contrast to EL34, JJ KT77 has good amount of bottom end. If you are yearning for more hammering heft, JJ KT77 is a good choice.
The added bottom end also makes KT77 noticeably clearer sounding at low volume . This makes it a good choice for gigs in small space or using in practice amps.
Compared to Gold Lion KT77, JJ KT77 can vary in quality. We do test and inspect 100% of our tubes. We also include burn-in at no charge, and this includes JJ KT77.
See EL34, 6CA7 KT77 catalog product listings.

---
6CA7
6CA7 is often overlooked, but is the favorite of many well versed guitar players. 6CA7 tends to be heavier and darker sounding than EL34 tubes, and also offers fair amount of sizzle.
6CA7 has more headroom. Once you go into overdrive, 6CA7 takes on aggressiveness that makes it suitable for hard rock.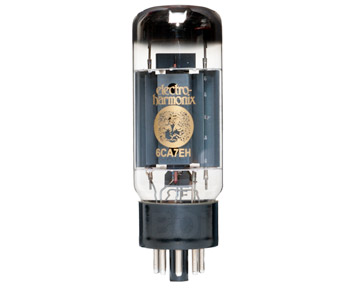 There are two 6CA7 tubes produced today, and we like both quite a bit.
Electro-Harmonix 6CA7EH is a reproduction of American fat bottle 6CA7. It is a mature design that has proven rugged and quite reliable over time.
JJ 6CA7 is a newer design, which has also proven to work quite well in guitar amp applications.
Related links: EL34, 6CA7, KT77 Difference?