We added Marshall Amp Tube Set to our site some time ago. We are offering TungSol tubes (except for JJ EL84) for tube sets.
Why TungSol? Well, we have been shipping TungSol tubes for many years. And TungSol tubes have not only sounded great, but have been solid and reliable. If you are looking for tube sets for your Marshall Amps, you should definitely check them out.
Now, you may have noticed that all the photos on our site are unique to us. That's because we take all the photos ourselves. It took us many years to get the tube photos right. Glass is hard to photograph especially if you want to overexpose the background. If you are trying to take photos of tubes and not having luck, we'd be happy to let you know how we do it.
For tube sets, we are photographing our own amps as well. For the Marshall Tube Set, we asked our very own glamorous classic JMP to be our photo model.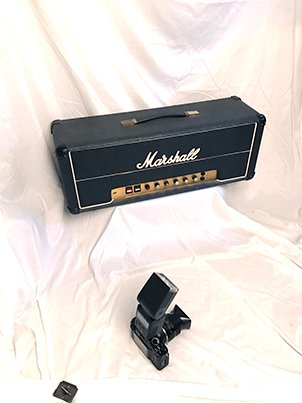 Now between you and me, JMP was actually very difficult to shoot. We wanted to feature her lines and show off her gorgeous dark surfaces. But the black British Tolex bounces off a lot more light than you might expect. This made her surface look like they are covered with tanning oil.
In the end, it took a lot of adjusting the lights, and liberal use of polarizing filter to see through her glow. We're happy how she came out in the photo.
What do you think?