Tubes are now back in stock!
We have been selling Vacuum Tubes online since 2003. Along the way, we purchased tubes we like and stashed them in our secret time capsule.
Ei and SED 12AX7 tubes are just such tubes we started offering recently.
2019 Update: We are now sold out on SED 12AX7. We are sold out on Ei 12AX7 Elite Gold, and we only have a limited number of Ei 12AX7 Elite left.
---
Ei 12AX7E and 12AX7EG
Ei was a tube factory that operated in Yugoslavia. Ei had close ties with Dutch Phillips. They even coded their tubes just like Phillips did.
Ei also supplied OEM tubes to companies such as Telefunken when they shifted their focus away from vacuum tubes. In fact, Ei built their small tubes on tooling supplied by Telefunken.
Now, although Ei got their tooling from Telefunken and tutelage from Phillips, their quality control tended to be minimal. So Ei screened their small signal tubes and labeled the good ones as Elites and sold at a higher price. They also offered gold plated pin version as Elite Gold.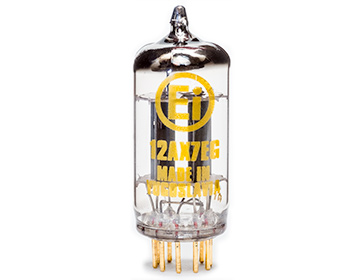 We have a bulk quantity of both Ei 12AX7 Elite and 12AX7 Elite Gold. On audio amps, we find these tubes to have great resolution and tight bass. In guitar amps, they really shine in Tweed amps with single coil pickup.
Ei tubes can be a bit microphonic, so we recommend you get the low noise screening option if you want to use them in phono stage or high gain amplifiers.
---
SED 12AX7
SED was made by Svetlana tube factory in St. Petersburg, Russia. They were known for building high quality tubes, and until late 1990's they were considered to be one of the top vacuum tube manufacturers.
Unfortunately, the company that sold SED tubes in US managed to run themselves into the ground in the early 2000's. They sold off their US assets including trademark and the name "Svetlana". The tubes were still manufactured at Svetlana factory, but they could no longer be sold under that name in US.
New owners of Svetlana brand introduced their own "Svetlana" tubes, which were quite good tubes in their own right, and still continues to be produced to this date.
The old Svetlana tubes had to be sold under another brand. So, they came up with the name "SED" which stood for "Svetlana Electron Device". The new Svetlana tubes used "S" logo, where SED tubes used "C" logo. The reason was, in Cyrillic, "C" is "S".
So by the mid 2000's in the US, there were Svetlana tubes with S logo. And SED tubes with C logo were also being sold. SED meant Svetlana Electron Device, but they were not Svetlana. And the big C logo, well, it's really S but it wasn't.
Needless to say, this created a mass confusion in the tube market.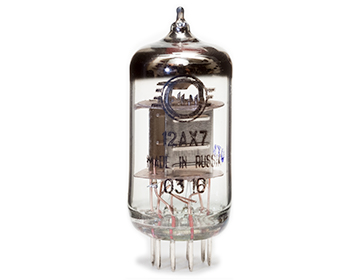 SED stopped producing small signal tubes by mid 2000's. Eventually all tube production stopped at the SED factory by 2012.
As for our SED 12AX7 offering, we stocked up and stashed away bulk SED 12AX7 in the early 2000's.
We always thought SED 12AX7 was a jewel of a tube, because it has a unique crystal chime in guitar amps that makes Telecaster bridge pickup luscious. It makes your clean and crunch guitar work shine. SED 12AX7 are low noise and made with good quality.
If you like to tube roll or try different V1 in guitar amps, this rare tube is definitely worth having in your collection.